Sales
418-681-6000 ext. 3
Opening hoursMonday - Thursday - Friday - Saturday - SundayClosed
address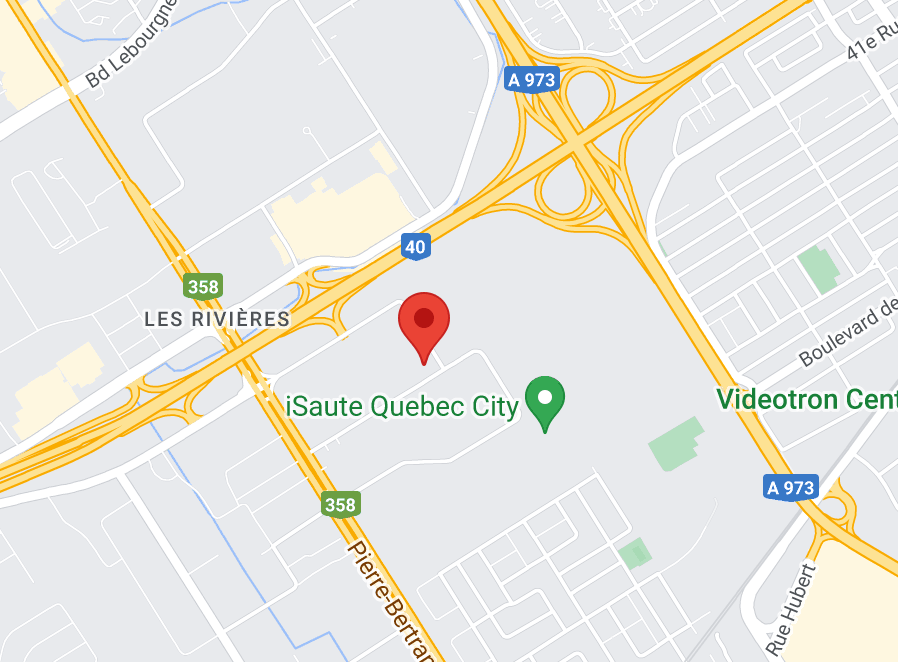 Directions From Charlesbourg to Our Subaru Dealer in Quebec City
Get on Autoroute 73 S/QC-175 S from Rue des Acadiens and Rue de la Faune
Continue on Autoroute 73 S/QC-175 S to Les Rivières. Take exit 312S from Autoroute 40 O/Autoroute 73 S
Take Rue Marais to Avenue Galibois
Merge onto Rue Bouvier
Turn right onto Boulevard Pierre-Bertrand/QC-358 E (signs for Auto Route 40 E/Auto Route 73 N)
Use the left 2 lanes to turn left onto Rue Marais
Rue Marais turns right and becomes Avenue Galibois
Destination will be on the right
Our location is just minutes away from Charlesbourg via Autoroute 73S/QC-175S. Driving from Charlesbourg QC to our dealership is fast, easy, and convenient. With our dealership located so close to Autoroute La Capitale and Pierre-Bertrand Boulevard, you can either get to us swiftly or take a more pleasant city course.
We are located at 999 Galibois, Quebec, QC G1M 3S4, just
7 Minutes from the Charlesbourg Gallery
9 Minutes from the Charlesbourg District Office
8 Minutes from Restaurant Le Manoir - Charlesbourg Manoir
If you require assistance planning the fastest route to our location, please contact us, and we will be happy to help you.
An Authorized Subaru Dealer Near Charlesbourg, Quebec
Desjardins Subaru is one of the leading new and used Subaru dealers in Quebec, QC, serving Charlesbourg, Beauport, Ste-Foy, Vanier, and Lebourgneuf. If you are a Subaru driver or an automotive consumer looking to buy a new car near Charlesbourg, QC, we would love to meet you! Our Subaru dealership is easily accessible via Autoroute 73 S and QC-175 S, and just a short drive from Charlesbourg, QC. Our returning customers choose to revisit us for the latest Subaru models, our vast selection of quality used cars, trucks, and SUVs, and our Subaru Service.
Find Your Next New or Used Subaru Near Charlesbourg, Quebec
At Desjardins Subaru, choose from all the most popular new Subaru models that include the new Crosstrek, Outback, Forester, WRX, and more. The Desjardins Subaru sales team is eagerly ready to answer any questions you have about a new or future Subaru model.
If you're looking for a used car in Charlesbourg, we have a vast inventory of used cars for sale to choose from. Not all Subaru dealerships near Charlesbourg have as large a selection of vehicles for sale. From quality used cars, trucks, SUVs to minivans, our collection has something for every driver and need. We offer great deals on our pre-owned vehicles and certified pre-owned Subaru vehicles to help you get on the road.
Approved Auto Financing is Closer to Charlesbourg Than You May Think
Do you require a car loan or Subaru lease in Charlesbourg? Let the finance experts at Desjardins Subaru help. We will work with you to find the car loan that best matches your budget when buying a new or used car from us. Even if you have had credit problems in the past, we can provide assistance hassle-free. Our staff are available to answer any credit or finance questions you may have. Contact us.