Subaru's BOXER engine powers every Subaru vehicle and is known for the ideal balance, smooth ride, and exceptional power delivery it provides, a reputation it's maintained for nearly 50 years. The BOXER's configuration of horizontally opposed cylinders make for a low centre of gravity that optimizes stability, sharpens your Subaru's cornering ability, and enhances its handling, whatever your conditions. Furthermore, this engine is compact, responsive, and transfers power to your drivetrain with the utmost efficiency. Subaru offers a variety of BOXER variations - whether with four or six cylinders, naturally aspirated or supercharged - that will win the hearts of drivers of all styles. Suffice it to say, there's no denying Subaru's patented engines are as efficient as they are powerful. Contact us at Desjardins Subaru in Quebec, QC to take one of our Subaru vehicles for a spin and see the BOXER in action.
Advantages of the Subaru BOXER Engine
Sharper Handling
This engine's low centre of gravity enhances your Subaru's stability when cornering, for starters. In fact, not only does it sharpen your handling, it also contributes to a comfortable driving demeanor and a more responsive drive, especially during evasive maneuvers.
Fluid Acceleration
The BOXER motor is compact, light, and cleverly positioned low and symmetrically in your Subaru's chassis. As a result, you'll enjoy a more responsive drive and most fluid acceleration every time you take the wheel.
Efficient Performance
Your Subaru engine's pistons are designed to move from side to side, which makes for a more naturally balanced configuration. Furthermore, this piston action reduces vibrations, enhances the efficiency of your Subaru's performance, and greatly reduces wear on its moving parts.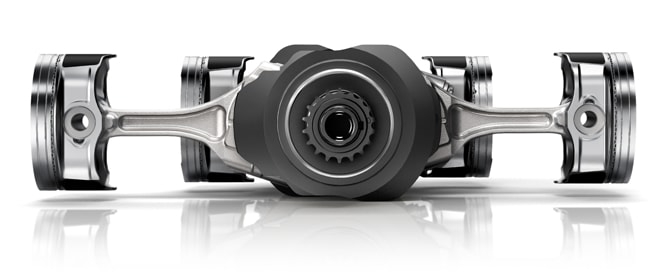 Horizontal Layout
The Subaru BOXER motor earns its name through the movement of its pistons, which are arranged symmetrically and horizontally. This configuration makes for less vibrations than the BOXER's traditionally designed counterparts, with the engine aligned on the drive system's axis to smoothly transfer power, as opposed to rival motors with a perpendicular mounting, which could tarnish their efficiency Balanced Weight Distribution & Low Positioning. The BOXER's horizontal pistons make for a flatter profile, which gives your Subaru a lower centre of gravity than many of its rivals. This lauded engine is also compact, light, and ideally balanced, all while offering less overhang than conventional inline motors. Thanks to this clever design, Subaru vehicles enjoy a more responsive, stable, and surefooted ride, as well as confident steering and handling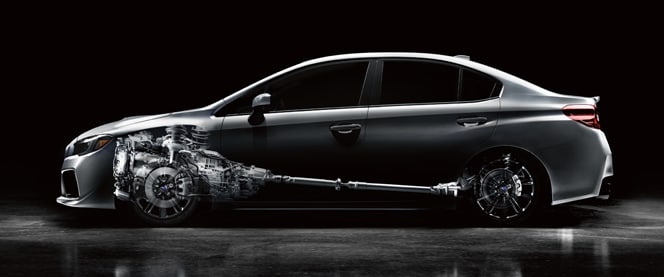 Balanced Weight Distribution and Low Positioning
Pistons that move horizontally give the SUBARU BOXER engine a flat, low profile, which enables a lower centre of gravity than other engine designs and a lower centre of gravity for the vehicle overall. This engine is also lighter, better balanced, more compact and has a smaller overhang than a traditional in-line engine. These characteristics enable Subaru vehicles to be inherently more responsive, safer and more stable, with quicker handling, flatter cornering and a more planted feel overall.
Click a Subaru vehicle below, to learn more about its class leading features